Three Phase Online UPS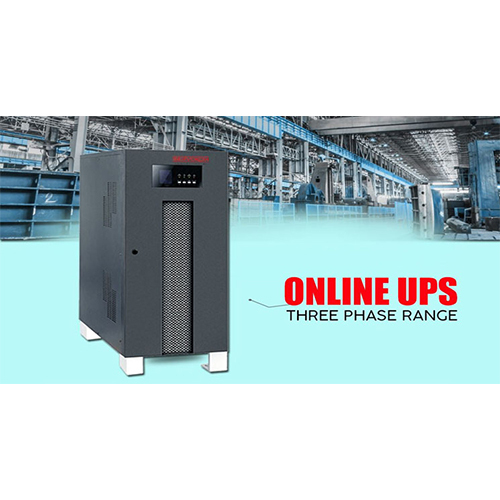 Three Phase Online UPS
Price And Quantity
Product Specifications
Product Description
With the help of a skillful team of expert personnel, we are able to manufacture, supply and export Three Phase Online UPS System. Made of superb quality raw materials, these products have effective and smooth operations. These products are generally connected between the electronic equipment and the main power source to regulate the flow and voltage of current. Tested by our team of diligent quality controllers, these products are absolutely free of defects or error. Three Phase Online Uninterruptible Power Supply System is available with us in different specifications in accordance to the clients' requirements.
More Details of Three Phase Online UPS:
We bring forth an entire gamut of Three Phase Online UPS System that is well known for its supreme quality. Our Online UPS is an electronic device or equipment which provides equipments alternate power at times of power failure or voltage fluctuation. It is a kind of middle equipment between the primary power source and the device connected with the power source, so as to protect the latter from the consequences of sudden power cuts and fluctuations. A UPS is of great importance to the electronic devices which requires stable and uninterrupted power. Initially the application of UPS was limited to only computers and servers. But, now a days, there are so many applications where UPS is being used such as telecommunication equipment, household electronic equipments, medical equipments and many more.
Features of Three Phase Online UPS:
1) UL listed.
2) Factory pre-wired and ready for installation.
3) Fully vented.
4) Removable top and sides for ease of installation and maintenance.
5) Fused for over current protection.
6) Ground stud provided.
7) Knock-outs on sides and in bottom.
8) Adjustable rails to accommodate multiple rows of batteries.
9) Chip and corrosion resistant powder coating
Product Details of Three Phase Online UPS:
| | |
| --- | --- |
| Phase | Three Phase |
| Brand | Servokon |
| Application | Commercial |
| Surface Finish | Powder Coated |
Application of Online UPS Systems:
The use of these Three Phase Online UPS Systems is not limited to computers and servers. Today, our UPS systems are widely used for following:
1) Telecommunication equipments
2) Biomedical equipments
3) Domestic electronic equipments
FAQs of Three Phase Online UPS:
Q: What is a Three Phase Online UPS?
A: A Three Phase Online UPS is a high level sort of uninterruptible power supply that gives consistent reinforcement capacity to associated gadgets during blackouts or variances. It works by continually running associated gadgets from the inverter, guaranteeing a consistent and stable power supply.
Q: How does a Three Phase Online UPS work?
A: A Three Phase Online UPS works by changing over the approaching AC power from the utility into DC power through a rectifier. The DC power is then used to charge the UPS's inside batteries and furthermore drives an inverter that changes over the DC power once again into AC power with exact voltage and recurrence control. This result AC power is utilized to run the associated gadgets persistently, guaranteeing consistent power supply in any event, during blackouts.
Q: What kinds of uses are appropriate for Three Phase Online UPS?
A: Three Phase Online UPS units are great for basic applications that require a nonstop and solid power supply, for example, server farms, server rooms, modern offices, clinical hardware, producing plants, and huge scope business setups.
Q: How would I pick the right limit with respect to a Three Phase Online UPS?
A: Picking the right limit includes working out the joined power utilization of all gadgets you expect to interface with the UPS. Think about the all out wattage or VA (volt-ampere) rating of your hardware to decide the fitting UPS limit.
Q: Are there various sorts of Three Phase Online UPS?
A: Indeed, there are various setups of Three Phase Online UPS frameworks, for example, single-phase info and three-phase yield, three-phase info and result, and that's just the beginning. The arrangement you pick ought to match your particular power prerequisites and arrangement.
Q: Might I at any point introduce a Three Phase Online UPS myself?
A: Introducing a Three Phase Online UPS is commonly more perplexing than single-phase units and frequently needs proficient help. It includes electrical wiring and cautious combination with your current electrical framework.
Trade Information
Carton Packing, Thermocol Packing Wooden Packing

Asia Australia Central America North America South America Eastern Europe Western Europe Middle East Africa
All India

ISO 9001, ISO14001 & CE Certificate, NSIC