Step Up and Step Down Transformer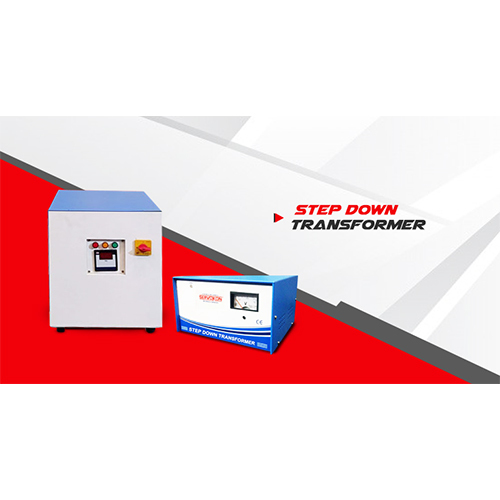 Step Up and Step Down Transformer
Price And Quantity
Product Specifications
Product Description
Facilitated by the panel of qualified and hard-working professionals, we are competent to produce, create and export Servokon Step Up and Step Down Transformers. These devices are used for pacing up and down voltage as requisite by the electrical device. Due to their elevated power and potency, these goods are utilized in diverse industries and companies. Step Up and Step Down Transformers are distributed to the end users in an prearranged time period with the help of our practiced carriage and freight workers.
Specification
| | |
| --- | --- |
| Phase | Three Phase, Single Phase |
| Cooling Type | Oil Cooled |
| Rating | Up to 5000 Kva |
| Brand | Servokon |
| Dc Insulation | Up to 1000 Megaohm |
Step Up Transformer
A step-up transformer is the individual whose secondary voltage is larger than its principal voltage. This type of transformer "steps up" the voltage practical to it. For example, a step up transformer is required to utilize a 220v product in a country with a 110v supply.
Step Down Transformer
Step Down Transformer is the conflicting of step-up transformer, and utilized to run for example a 110 V product in a country with a 220v mains supply.
Servokon provides a complete variety of high quality Step Up/Step Down Transformers. This kind of transformer is fabricated of 2 or more coils of shielded wire wound in the region of a core made of iron. When voltage is supplied to principal coil it magnetizes the iron core, which encourages a voltage in the resultant coil. The turn ratio of the 2 sets of windings ascertains the quantity of voltage transformation.
With a step up transformer or step down transformer the voltage ratio between principal and resultant will mirror the "turns ratio". A sensible application of this 2 to 1 turns ratio would be a 480 to 240 voltage step down. If the contribution be 440 volts then the outcome would be 220 volts. The ratio within input and output voltage will reside stable. Transformers should not be activated at voltages elevated than the prescribed rating, but may be activated at lesser voltages than rated. Because of this it become likely to do some non-standard functions using benchmark transformers.
Single phase transformers 1 kva and generously proportioned may also be overturn linked to step-down or step-up voltages. The main parts for voltage transformation are the transformer's core and coil. The wadding is positioned between the twists of wire to avoid shocking to one another or to earth. This is usually encompassed of mylar, kraft paper, varnish or other materials. As a transformer has no working pieces, it will characteristically have a life expectation between 20 and 25 years.
Applications of Step Up/Step Down Transformers:
1) Imported machinery working on 110 Volt
2) Imported electrical devices
3) Printing Machine
Step Up/Step Down Transformers features:
1) Extended service life of 20 to 25 years
2) No running/moving parts
3) Exceptional turns ratio
4) Less power consumption
5) Wadding in between the twists of wire to avoid shorting
Trade Information
Carton Packing, Thermocol Packing Wooden Packing

All India
ISO 9001, ISO14001 & CE Certificate, NSIC