Solar Transformer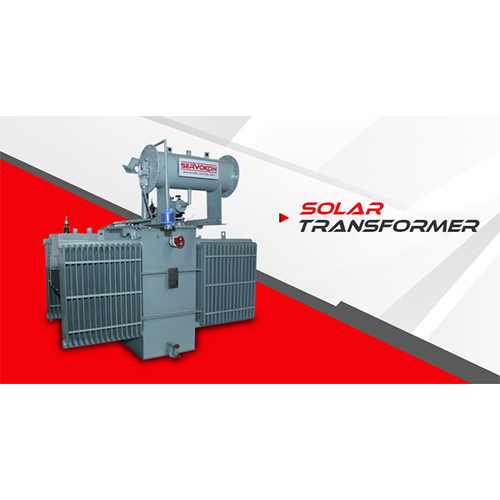 Solar Transformer
Product Description
The Solar Transformer is a device that is used to convert the direct current (DC) output of solar panels into the alternating current (AC) needed to power homes and businesses. It is designed with high-quality materials that are resistant to extreme weather conditions, ensuring durability and reliability. The transformer features advanced circuitry that regulates the voltage and frequency of the AC output, ensuring stable and efficient power delivery. It is also easy to install and maintain. This solar Transformer is an essential component of any solar power system.
FAQs of Solar Transformer:
Q: What is a solar transformer?
A: A solar transformer, otherwise called a solar power transformer or photovoltaic (PV) transformer, is an electrical gadget utilized in solar power frameworks to work with the protected and proficient change of force created by solar boards. It moves forward or ventures down the voltage depending on the situation for conveyance to the framework or other electrical frameworks.
Q: How does a solar transformer work?
A: A solar transformer works much the same way to a customary transformer, utilizing electromagnetic enlistment. It has essential and optional windings folded over a center. The solar transformer moves forward the low voltage produced by solar boards to a higher voltage reasonable for transmission over significant distances or for network association.
Q: What is the job of a solar transformer in a solar power framework?
A: The essential job of a solar transformer is to deal with the voltage levels of the power produced by solar boards. It streamlines the power created by switching it over completely to the fitting voltage for productive transmission, dissemination, and incorporation into the electrical lattice.
Q: Where is a solar transformer ordinarily introduced?
A: Solar transformers are generally introduced in solar power plants or establishments where different solar boards are associated with produce power. They are in many cases set inside solar inverter stations, which convert the immediate current (DC) result of solar boards into substituting current (AC) for framework association.
Q: What are the voltage levels utilized in solar transformers?
A: The voltage levels in solar transformers can shift in light of the framework plan and territorial guidelines. They could move forward the voltage from the low DC voltage of solar boards (normally around 300-600V) to more significant levels reasonable for network association (e.g., 1,000V or more).