Pad Mounted Transformer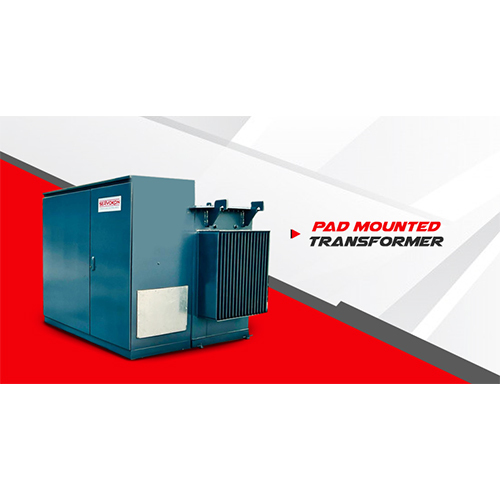 Pad Mounted Transformer
Product Description
The Transformers which are installed on the Plinth called Pad Mounted Transformers, these are also known Power Transformer, Generator Transformers, Unit Auxiliary Transformers, Auto Transformers, Station Transformers, Distribution Transformers, Booster Transformers, & Furnace Transformers etc. The establishment of pad-mounted transformers requires skill in electrical frameworks, underground utility work, and security guidelines. It's prescribed to have prepared experts and utility specialists handle the establishment.
A few benefits of pad-mounted transformers include:
Tasteful coordination: They are introduced at ground level, making them less outwardly meddlesome contrasted with shaft mounted transformers.
Security: Underground establishment lessens openness to atmospheric conditions and defacing.
Dependability: They give solid power appropriation, particularly in thickly populated regions.
FAQs of Pad Mounted Transformer:
Q: What is a pad-mounted transformer?
A: A pad-mounted transformer is a sort of electrical transformer that is intended to be introduced on a substantial pad or stage at ground level. It is normally used to step down high-voltage power from electrical cables to a lower voltage reasonable for dissemination to homes, organizations, and different customers.
Q: Where are pad-mounted transformers regularly utilized?
A: Pad-mounted transformers are usually utilized in metropolitan and rural regions for dissemination of power to private and business regions. They are much of the time put in underground vaults, green spaces, or utility nooks to give capacity to a neighborhood dispersion organization.
Q: How does a pad-mounted transformer work?
A: Pad-mounted transformers work by utilizing electromagnetic enlistment to change the voltage of the power. They have essential and optional windings folded over a center. The essential winding gets the high-voltage power from the electrical cables, and the optional winding results lower voltage power for dissemination.
Q: What sorts of voltage do pad-mounted transformers handle?
A: Pad-mounted transformers can deal with a scope of voltage levels, including medium-voltage (normally 2.4 kV to 34.5 kV) on the essential side and lower voltage on the optional side, for example, 240V or 480V.
Q: How are pad-mounted transformers introduced?
A: Pad-mounted transformers are commonly introduced on a substantial pad or stage at ground level. Underground links are associated with the essential and optional terminals of the transformer, and these links convey the power to and from the transformer.
Q: Are there various sizes and setups of pad-mounted transformers?
A: Indeed, pad-mounted transformers come in different sizes and designs to oblige different power circulation necessities. The size and limit rely upon elements, for example, the heap interest of the area they serve.
Trade Information
Letter of Credit at Sight (Sight L/C) Cash Against Delivery (CAD) Cheque Cash Advance (CA)

10 Per Week
Australia North America South America Eastern Europe Western Europe Middle East Africa Central America Asia

All India