Neutral Transformer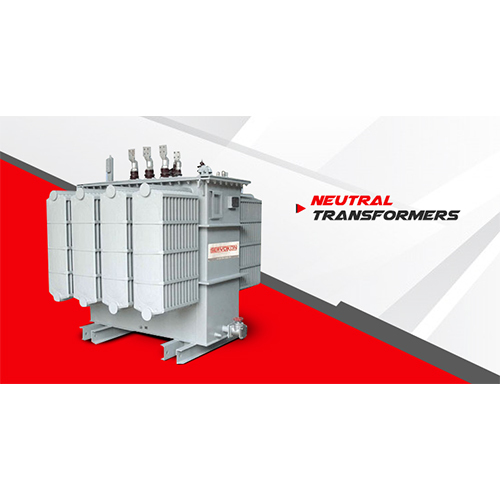 Neutral Transformer
Product Description
We have the industrial expertise and electrical knowledge to create, present and export heavy duty Neutral Transformer. These devices are used in diverse commercial and domestic supply schemes of electric current. Due to their efficient and even performance and user friendly function, these goods have made a enormous demand among our end users in the international market. Special Transformers are provided to the end users in a pre decided time period owing to our widespread distribution system.
Specifications of Neutral Transformer:
| | |
| --- | --- |
| Phase | Single Phase |
| Operational life | 20 to 25 years |
| Power Required | 110 v |
| Brand | Servokon |
Our Special Transformer Includes:
Neutral Transformer
Major function of neutral ground transformer is to offer moderately less impedance way to ground which additionally sustains the system neutral at ground potential. These are essentially utilized in the applications like Electric utility power systems, Mine power & Commercial power systems and for High-confrontation grounding.
Lighting Transformer
It is an additional broadly asked for transformer created by Servokon. It is utilized to reduce the efforts of power line concerns like transients, spikes, surges and noise that can hurt or damage the electric instruments or devices. Skilled professionals use advanced techniques, equipment and superior technology for the developed of these transformers.
Our products are always appreciated for their salient features including:
1) High competence
2) High potency
3) Minimal Maintenance
4) Advanced Quality
5) Sturdiness
6) Dependability
7) Affordable Prices
8) Lesser loss and advanced performance
9) Reduced power utilization
10) Fabricated mostly for fitting closer to load
Advantages of Electric Neutral Transformer:
1) Light design to facilitate transport
2) Ideal for emergency situations
3) Give rapid response
4) Can operate at multiple voltage levels if required for various applications
5) Balances the Load
FAQs of Neutral Transformer:
Q: What is a neutral transformer?
A: A neutral transformer, otherwise called an establishing transformer or crisscross transformer, is a sort of transformer that gives a neutral association with uneven burdens in electrical frameworks. It assists with settling voltages and equilibrium flows in three-stage frameworks.
Q: How does a neutral transformer work?
A: A neutral transformer comprises of a winding design that permits it to make a grounded neutral point in a three-stage framework. It gives a way to unequal flows to stream and keeps up with the ideal voltage levels in the framework.
Q: What is the motivation behind a neutral transformer?
A: The principal motivation behind a neutral transformer is to oversee and control lopsided flows that might happen in three-stage electrical frameworks. It forestalls overvoltages, diminishes symphonious contortion, and keeps a reasonable voltage profile.
Q: Where are neutral transformers utilized?
A: Neutral transformers are normally utilized in electrical frameworks where unequal burdens are normal, like in modern settings, business structures, and dispersion organizations. They are especially valuable in frameworks with non-direct loads like PCs, variable speed drives, and other electronic hardware.
Q: How does a crisscross winding design function in a neutral transformer?
A: The crisscross twisting design of a neutral transformer permits it to make a grounded neutral point by interfacing three windings with a particular goal in mind. This setup makes a way for zero-succession flows, which helps balance the framework.
Trade Information
Carton Packing, Thermocol Packing Wooden Packing

All India
ISO 9001, ISO14001 & CE Certificate, NSIC