Compact Sub Station (CSS)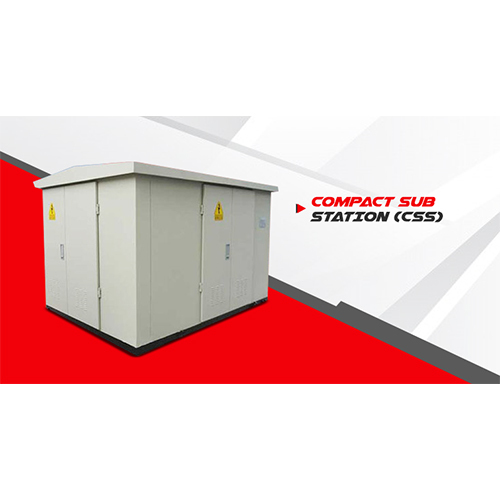 Compact Sub Station (CSS)
Product Description
Compact substation is an integrated power distribution unit that is used to transform high voltage power to low voltage power, distribute electricity to end-users, and protect electrical equipment from overloads and faults. It is designed to be compact and space-efficient, making it ideal for use in areas with limited space or where a traditional substation would not be feasible. A typical compact substation consists of a transformer, switchgear, and other auxiliary equipment, all housed in a weatherproof enclosure. The compact substation can be installed indoors or outdoors and can be customized to meet specific power distribution requirements. Compact substations are commonly used in industries such as mining, oil and gas, and renewable energy, as well as in commercial and residential applications.
FAQs of Compact Sub Station (CSS):
Q: What is a Compact Sub Station (CSS)?
A: A Compact Sub Station (CSS) is a pre-assembled and compact unit that houses different parts of an electrical substation in a solitary nook. It is intended to change high voltage from electrical cables to bring down voltages appropriate for neighborhood circulation and incorporates gear for security, control, and metering.
Q: Where are Compact Sub Stations commonly utilized?
A: Compact Sub Stations are usually utilized in metropolitan and suburban regions where space is restricted. They can be tracked down in private buildings, business regions, modern destinations, and distant areas.
Q: Can Compact Sub Stations deal with various voltage levels?
A: Indeed, Compact Sub Stations can be intended to deal with different voltage levels, including medium voltage (regularly 11 kV or 33 kV) and low voltage (415V or 240V) for neighborhood dispersion.
Q: How is a Compact Sub Station introduced?
A: A Compact Sub Station is normally moved to the site as a solitary unit. It is then put on an establishment or stage and associated with the power supply and dissemination lines. Establishment might require coordination with service organizations and electrical specialists.
Q: Are there various sizes and setups of Compact Sub Stations?
A: Indeed, Compact Sub Stations come in different sizes and designs to oblige different power circulation prerequisites. The size and arrangement rely upon elements, for example, load interest and accessible space.
Q: Might I at any point introduce a Compact Sub Station myself?
A: The establishment of a Compact Sub Station requires mastery in electrical frameworks, structural designing, and wellbeing guidelines. It's prescribed to include prepared experts who have insight in substation establishments.