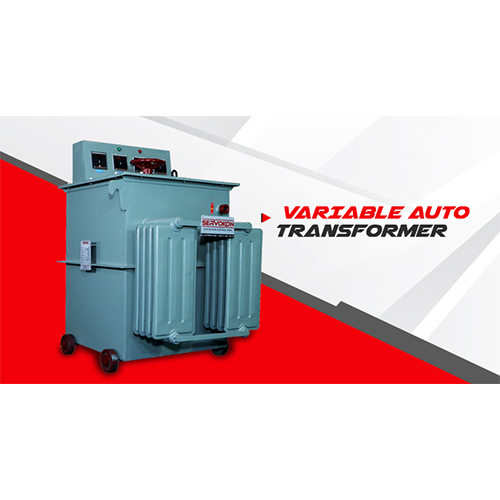 Product Description
Due to the high-tech infrastructural unit, we are capable to produce, provide and export Variable Autotransformer (variac), Variac Auto Transformers. These devices are utilised in diverse electrical appliances for adapting and sustaining the uneven voltage. Due to their precise working and elevated performance, these products efficient security against voltage rushes and sparks. Variable Autotransformer (variac), Variac Auto Transformers is provided to the end users in a particular time period due to our widespread distribution network. Variable auto transformer is an electric transformer that has a purpose of providing continuous AC voltage supply with AC control voltage controls. It is applicable in both, residential areas and industries, as it provides an output which is waveform distortion free. All electronic equipment, machinery and appliances are safeguarded by this transformer, from voltage fluctuations. Using a voltage factor, one can easily control the current, heat, light as well as motor speed. During the construction of this transformer, a single layer winding is created on the core of CRGO steel. One side of copper winding has a special durable contact surface, which is further specially finished.
Key Points :-
This high efficiency transformer is simple to install and connect.

The centre shaft has a contact arm with carbon brush. This carbon brush slides over the winding and taps of a voltage portion across the winding upon the rotation of the control knob. The position of the brush is adjusted to obtain any desire voltage with in the maximum range.

Using this transformer, output voltage more than twice the input voltage can be boosted.

This is widely used in hotels, colleges, universities, auditorium, conference hall, and laboratories. This works best for testing instruments, welding equipment, stabilizer, rectifiers, and battery chargers.
Other Details :-
We present a broad range of superior quality changeable Auto Transformer (Variac). This kind of transformers is AC voltage manages that offers a variable AC voltage. Their deformation free output is perfect for responsive electronic applications. These transformers have a solitary layer winding on a toroidal core of superior-grade cold rolled grain oriented (CRGO) steel. On one face of the copper winding besides the periphery, a particular sturdy contact surface is created and an especially completed carbon brush glides effortlessly on the surface. A contact arm holding the carbon brush fixed on the centre shaft and as the control button is rotated the carbon brush glides over the winding and taps of a segment of voltage crossways the winding. Variac transformers can amplify the output voltage in overload of two times the input voltage. Any wished voltage with in the utmost range can be acquired by altering the location of the Brush. The regulated dial show roughly output voltage at no weight, when the contribution is at its rated value. Rotary motion of the arm by physical or motor drive sends an output voltage from 0 to over line voltage.
Application Areas :-
Variable Auto Transformers (Variac) are used to regulate voltages for various industrial equipment, simulate power line conditions.
They are also used as the alternative to regular autotransformers.
Variable Auto Transformers find application in synchronous motors and induction motors.
Used to increase the voltage levels in AC feeders.
They are also used in electrical apparatus testing labs in order to smoothly and continuously varied the voltage.
Features of Variable Autotransformer (variac) :
-
Straightforward rocky construction
99.9% unadulterated copper
High competence
Insignificant wave form & power factor deformation
Spirals fabricated from superior grade CRGO steel
Less temperature increase
Extended life with slight maintenance
Elevated quality carbon brush utilized for current flow
Even & step-less voltage control
Small time overworked capability
Easy Installation & Connection
Extra carbon brushes provided up to 28 Amp
Extensive range of current rating 4 Amp. To 1200 Amp.
Construction of Variac Auto Transformers
:-
There is a solitary layer winding on toroidal core of elevated-grade cold rolled grain oriented (CRGO) steel.
A particular sturdy contact surface is created on one side of the copper twisting and a especially completed carbon brush glides smoothly on the surface.
A contact arm with a carbon brush is built-in on the centre shaft.
As the control handle is rotated, the carbon brush glides over the winding.
Advantages and Disadvantages :-

Auto Variable Transformers are more efficient in comparison with the conventional one.
They require less winding and have a smaller core than a regular transformer.
In its design and construction less copper is used.
Low requirements of excitation current.
Variable autotransformer are less expensive, lighter, smaller and handle at lower voltages.