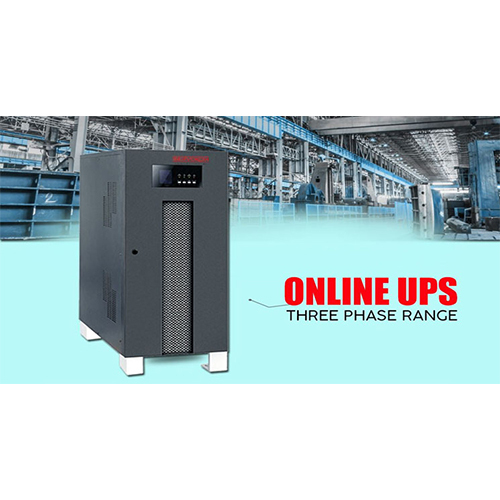 Product Description
With the help of a skillful team of expert personnel, we are able to manufacture, supply and export Three Phase Online UPS System. Made of superb quality raw materials, these products have effective and smooth operations. These products are generally connected between the electronic equipment and the main power source to regulate the flow and voltage of current. Tested by our team of diligent quality controllers, these products are absolutely free of defects or error. Three Phase Online UPS System is available with us in different specifications in accordance to the clients' requirements.
Other Details :-
We bring forth an entire gamut of
Three Phase Online UPS System
that is well known for its supreme quality. Our Online UPS is an electronic device or equipment which provides equipments alternate power at times of power failure or voltage fluctuation. It is a kind of middle equipment between the primary power source and the device connected with the power source, so as to protect the latter from the consequences of sudden power cuts and fluctuations. A UPS is of great importance to the electronic devices which requires stable and uninterrupted power. Initially the application of UPS was limited to only computers and servers. But, now a days, there are so many applications where UPS is being used such as telecommunication equipment, household electronic equipments, medical equipments and many more.


Features of Three Phase Online UPS :-
UL listed.
Factory pre-wired and ready for installation.
Fully vented.
Removable top and sides for ease of installation and maintenance.
Fused for over current protection.
Ground stud provided.
Knock-outs on sides and in bottom.
Adjustable rails to accommodate multiple rows of batteries.
Chip and corrosion resistant powder coating
Application of Online UPS Systems :-

The use of these Three Phase Online UPS Systems is not limited to computers and servers. Today, our UPS systems are widely used for following:
Telecommunication equipments
Biomedical equipments
Domestic electronic equipments