Constant Voltage Transformer (CVT)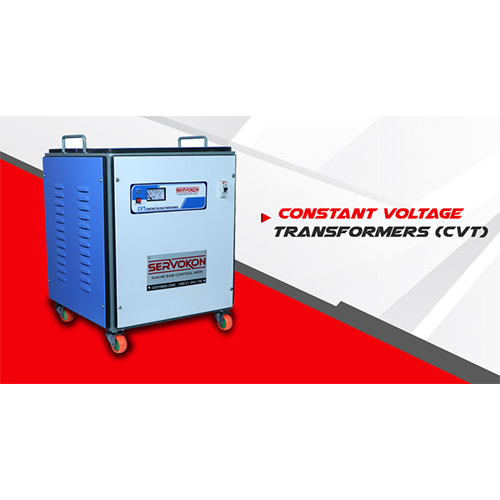 Constant Voltage Transformer (CVT)
Price And Quantity
Product Specifications
180-260 Volt (V)

Air Cooled
Copper Core

Isolation Transformer
50 Hertz (HZ)

Single Phase
Product Description
Due to the gigantic industry familiarity, we have in this area of creating, presenting and exporting Servokon Constant Voltage Transformer (CVT). These goods are used in diverse companies and residential regions for offering a steady and synchronized flow of voltage. Furnished with a sturdy magnet, these goods are capable to preserve the similar electrical energy at all time. Servokon Constant Voltage Transformer (CVT) is especially crammed in fiddle proof packaging substance in order to shun any breakage during transportation.
More Details:
Servokon provides a broad range of advanced quality Servokon Constant Voltage Transformer (CVT). These transformers are created by means of superior quality raw material and high tech Ferrow Resonant Technology. Our Servokon CVT Transformer is merely a magnetic transformer of a particular construction that has a capacitor linked across the less important winding of the transformer. In a normal transformer, the main and less important windings are wound close to each other so that whenever there is a transform of voltage crossways the primary there is a consequent change in the less important voltage depending upon the fraction of the turns on the 2 windings. In case of Constant Voltage Transformer, the chief and secondary windings are wound independently from each other. To set up field in between the coils, another shunt path is offered between the two windings but an air gap is produced in the shunt path. A capacitor is also linked across appropriate tappings of the resulting winding.
The rationale CVT is utilized rectifiers and not a voltage stabilizer for computer procedures is that in the voltage stabilizer transmits are available and when these transmits operate (switch), the output voltage may be intermittent for a small time. Such a transitory may not be sought-after for computers which may reason the computer to restart. Also, the Servokon CVT transformer offers a neat spike-free output voltage. The voltage guidelines likely in a CVT are also high-quality.
Features of Constant Voltage Transformer:
1) Immediate voltage regulation
2) No spikes
3) Noiseless functioning
4) Elevated isolation amid input and output
5) Minimum Maintenance
6) Very quick Correction Speed
7) No Semi Conductor or moving part needed
Applications of CVT:
1) Bio-med instruments
2) Color photography lab
3) Elevated Sensitive machines
4) Telecom instruments
5) Fax
Trade Information
Yes

Carton Packing, Thermocol Packing Wooden Packing
Asia, Eastern Europe, Western Europe, Middle East, Africa

All India
ISO 9001, ISO14001 & CE Certificate, NSIC