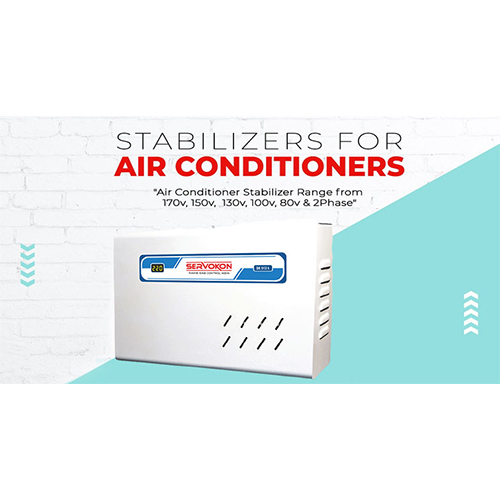 Air Conditioner Stabilizer
Product Description
Air conditioner stabilizer 1.5 and 2 ton, as the name implies, is a stabilizer designed for the air conditioners of capacities 1.5 ton and 2 ton. It is generally installed at the location where there is your air conditioner. Whether the AC is window AC, the stabilizer must be kept above the floor level, so that it can be protected from accidental water spillage on floor. This air conditioner stabilizer 1.5 & 2 ton efficiently protects expensive AC from damage due to excessive low or high high voltages.
We have expanded the market proficiency and knowledge to produce, supply and export Digital Voltage Stabilizers For Air Conditioners. These creations are utilized for offering an exact and steady voltage to air conditioners for their effectual workings. Due to their elevated performance, these devices have received the appreciation of the end users in the worldwide market. Air Conditioner Stabilizing Machines are jam-packed in extraordinary packaging material in order to evade any harm at the time of haulage.
We present highly-competent AC Voltage Stabilizers, created with the most recent machinery to provide you peace of mind with un-negotiated security for your Air Conditioners. These Stabilizers are stylishly created and are available with elevated quality transformers which fabricate low heat and elevated effectiveness thus improving existence of this Voltage stabilizers and Air Conditioners. These are furnished with most recent micro processor controller and salient characteristics like Time Delay scheme, elevated & low voltage cut-off etc. The major role of a Stabilizer is to create the system electric voltage that controls the machine equal to the system that is sustained by the device. This denotes that with the utilization of a Stabilizer it is simpler to make sure that variations in the voltage of electric current are not affecting the air conditioner and thus avoid better harm to the device. Our stabilizers soak up huge shocks of voltage alterations and avoid that most grave harm that is rooted to the air conditioner.
Our company also prefer special "Two Phase Stabilizer" to assemble rural voltage needs.
Models Available For 1 Ton & 1.5 Ton:

SK 417
SK 42P
SK 415
SK 413
SK 410
SK 480
Models Available For 2 Ton:
SK 517
SK 515
SK 513
SK 510
SK 580
SK 52P
Features:
1) Provides absolute defence for your Air Conditioners
2) Incorporated with elevated quality transformers
3) Furnished with most recent micro processor controller, elevated & low voltage cut-off and Time delay system
4) Soak up out sized shocks of voltage variations
5) Latest Microprocessor Based Circuit
6) High& Low Cut off Feature
7) Thermal Overload Protection
8) Widest 8 Genuine Working Range
9) Inbuilt Time Delay Relay (TDR)
10) Warranty - 3 Years
Application:
These digital voltage stabilizers are particularly fabricated for providing incessant power supply to air conditioners devoid of any variation in voltage.
Air Conditioner Stabilizing Machine

Technical Specifications:



| | |
| --- | --- |
| Input Voltage Range | 160-260V/ 140-280 V/ 90-270 V/ |
| Output Voltage Range | 220+-10% |
| 0.75 Ton or 1.5 Ton A.C. | 4 Kva Stabilizer |
| 2 Ton A.C. | 5 Kva Stabilizer |
| 2.5 or 3 Ton A.C. | 7.5 Kva Stabilizer |
Voltage Power Supply is unpredictable in most parts of India. Sudden voltage fluctuations beyond the ideal range can cause damage to your Air Conditioner. Servokon's Air Conditioner series will provide your Air Conditioner, an optimum output voltage along with many more special features. Servokon has the widest range of Air Conditioner Stabilizers ranging from as low as 80V input to 170V input providing a stabilised output to your Air Conditioner.

Trade Information
Carton Packing,Thermocol Packing Wooden Packing

Goa, Tamil Nadu, Telangana, Uttar Pradesh, Jammu and Kashmir, Delhi, Maharashtra, Mizoram, Daman and Diu, Manipur, Uttarakhand, Tripura, Rajasthan, Assam, Sikkim, Pondicherry, Jharkhand, Lakshadweep, Himachal Pradesh, Madhya Pradesh, West Bengal, Kerala, South India, Chandigarh, Dadra and Nagar Haveli, Punjab, Bihar, Haryana, Andaman and Nicobar Islands, East India, Karnataka, Meghalaya, West India, Andhra Pradesh, Gujarat, Central India, Chhattisgarh, Arunachal Pradesh, North India, Odisha, Nagaland
ISO 9001, ISO14001 & CE Certificate, NSIC